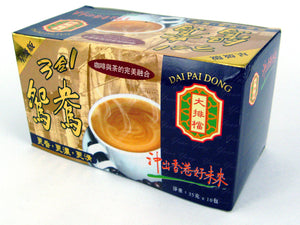 DPD 3 in 1 Yuan Yang (Star Grade Version) 大排檔星級版3合1 鴛鴦
Regular price
$5.27
$3.38
Unit price
per
Dai Pai Dong 3 in 1 Yuan Yang (Coffee and Tea Mix) - Star Grade
Dai Pai Dongs are popular side walk food stalls in Hong Kong during the 50s and 60s. Rows and rows of them resided compactly along the roadsides, serving a variety of foods. Yuan Yang is a typical Dai Pai Dong styled drink.
Dai Pai Dong 3 in 1 Yuan Yang - Star Grade is made of the premium finest-grade tea leaves, coffee, sugar, milk and is created for the convenience of customers.
Direction:
Empty contents of one sachet into 200ml hot water (about a tea cup) and then stir well. Serve hot or with ice for cold drink.
Net Weight: 30g x 10sachets
---
Share this Product
---